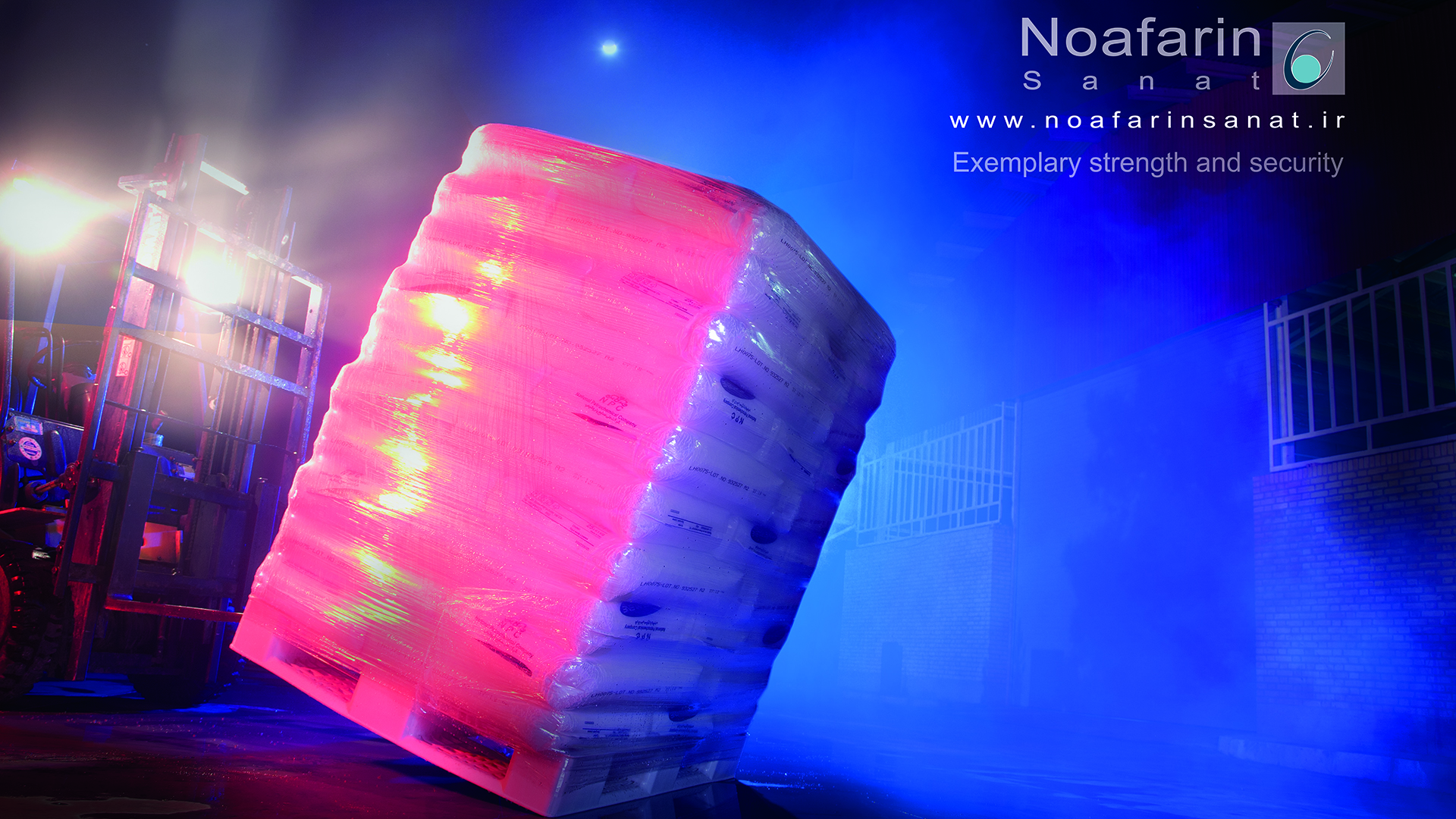 Stretch Wrap
A highly stretchable plastic film commonly made from Linear low-density polyethylene (LLDPE) that is wrapped around items. The elastic recovery keeps the items tightly bound. Today in the world this product has special place in packing industry and hAas packing feature for different types of products on pallets, ring and bullion.Pallet: this type of packing is in relation to everything that can be placed on pallet.Ring: all products which produce and pack as ring, roll and spool such as types of hoses, belts drip irrigation pipes, cables and metal or paper rolls.Bullion: for items which produce and pack like bullion such as window profiles UPVC, aluminum ingots, plastic ducts, etc.In producing this product, the customer can select the best due to the condition of his product and Noafarin has no limitation in producing different sizes.Stretch film is commonly used to wrap products on pallets and secure them to each other and the pallet. This often helps to reduce products loss, discourage load tampering, and reduce worker injury. There are a variety of widths, thicknesses, and types of stretch film.When do I use Stretch Film?Usually stretch film is used to hold boxes and products together on a pallet for transportation. It can also be used to hold other object together and protect objects during transportation and storage. Stretch film can come in a variety of specialty films. Some examples are: UV stretch film, vented pallet wrap, anti-static stretch film, colored stretch film, etc.
Cling film
Silage stretch films are used in the agricultural sector for the bale silage production. Compared to other methods of storage such as clamp silage, bale silage is characterised by an excellent forage quality. A good forage quality is the basis for a healthy animal husbandry. Furthermore, bale silage can be produced flexibly and stored location independently. The use of a high-quality silage stretch film is an essential component for the production of a high-quality bale silage. NOAFARIN SANAT silage stretch films are produced by patented manufacturing methods. Due to regular quality controls we guarantee a high operational reliability on your wrapping machines.Silage stretch film made by NOAFARIN SANAT stands for highest silage quality and easy processing. It simply works when it counts the most!
Your benefit:
Guaranteed length of the stretch film
Higher productivity
Low-noise processing due to patented producing process
Superior film composite – perfectly sealed!
Environmental Protection
Wrapped on special cardboard cores with a weatherproof coating
Guaranteed free of PIB – no adhesive deposits on the rollers
Food grade quality – made from polyethylene (PE) without harmful extra substances
100% recyclable
Stretch hood
A stretch hood is a tube of film sealed on one end, which is stretched over a palletized load to secure the contents to the pallet. The film is cut to the appropriate length, heat sealed on the top end, and gathered on four 'fingers.' These fingers stretch the film in the horizontal (transverse) direction until the film dimensions are slightly larger than the load dimensions, then draw the stretched film down over the pallet, unrolling it as they go.By varying the unrolling rate, a degree of vertical (machine) direction stretch can be obtained to better hold the load on the pallet. At the bottom of the pallet, the fingers release the film, which typically wraps under the pallet bottom.What market segments and applications use stretch hoods?Stretch hoods are one of the fastest growing pallet stabilization and packaging systems. Load stability and the flexibility to control elasticity and holding force make stretch hoods ideal for palletizing many applications –from empty PET bottles (high elasticity and low holding force) to cement bags (low elasticity, high holding force).Building materials and heavy-duty shipping sacks in particular have seen a rise in popularity of stretch hoods.Specific applications include: bricks, stones, shingles, bagged concrete, bagged resin and appliances have also seen high growth of stretch hoods (at the expense of corrugated board).Why choose stretch hoods over other palletizing methods?Stretch hoods offer the most comprehensive list of palletizing benefits, including:Logistics management – The stretch hood process is more efficient (100 loads per hour for stretch hood vs. 60 loads per hour for stretch wrap).Weatherability – Five-sided protection ensures products stay dry and provides protection against ultra-violet radiation.Package integrity – Load stability and abuse resistance mean a greater likelihood products arrive to their final destination unscathed and attached to the pallet.Display properties – The clarity of the film and the fact that a stretch hood is a single layer of film (vs. multiple layers of stretch wrap) help the logistics function identify errors or product damage and enable constant brand exposure.